Steam turbine controller (ESTC)
(E)ldatex (S)team (T)urbine (C)ontroller
Powerful controllers for steam turbines of any size with up to 16 control valves.
The ESTC is a flexible, powerful, and freely programmable digital steam turbine controller. It can handle several control modes which can also be combined, if required, allowing smooth change-over during service.
The hardware is based on the industry-tested S7 controls ensuring high reliability and availability.
The system is operated by way of a touchscreen available in different sizes depending on the customer's specifications. From the smallest 7" HMI to the largest 22" HMI, everything is possible without limiting any of the system's functions.
One of the ESTC's special features is the possibility to drive a generator with up to 2 turbines, the second turbine being startable separately and featuring individual speed control.
Communication with a parent system represents an increasingly important part of optimized governing systems tailored to the process. For this reason, the ESTC has an Ethernet interface by default allowing communication via S7 connection and Modbus TCP/IP. If necessary, additional means of communication such as Profibus and Modbus RTU are available as options.
There are 2 ESTC versions available:
ESTC: Steam turbine controller for steam turbines with several extractions and injections, up to 4 HD process controllers, and an additional limit governor. Special functions complying with BDEW guidelines (German Association of Energy and Water Industries) have already been integrated in the form of primary frequency control and gradual discharge of the turbine.
ESTC Basis: Steam turbine controller with up to 3 control valves and 2 process controllers for turbines used as pumps, blowers, compressors or generator drives.
ESTC PC Configurator
The "ESTC PC Configurator" is a tool for programming the ESTC and available free of charge. It allows the parameterization of as well as the upload and download of configurations from/to the ESTC. A live connection to the ESTC can be established via Ethernet without any problem enabling you to easily optimize your system's control behaviour. Moreover, you can create a complete documentation automatically from the ESTC's data record.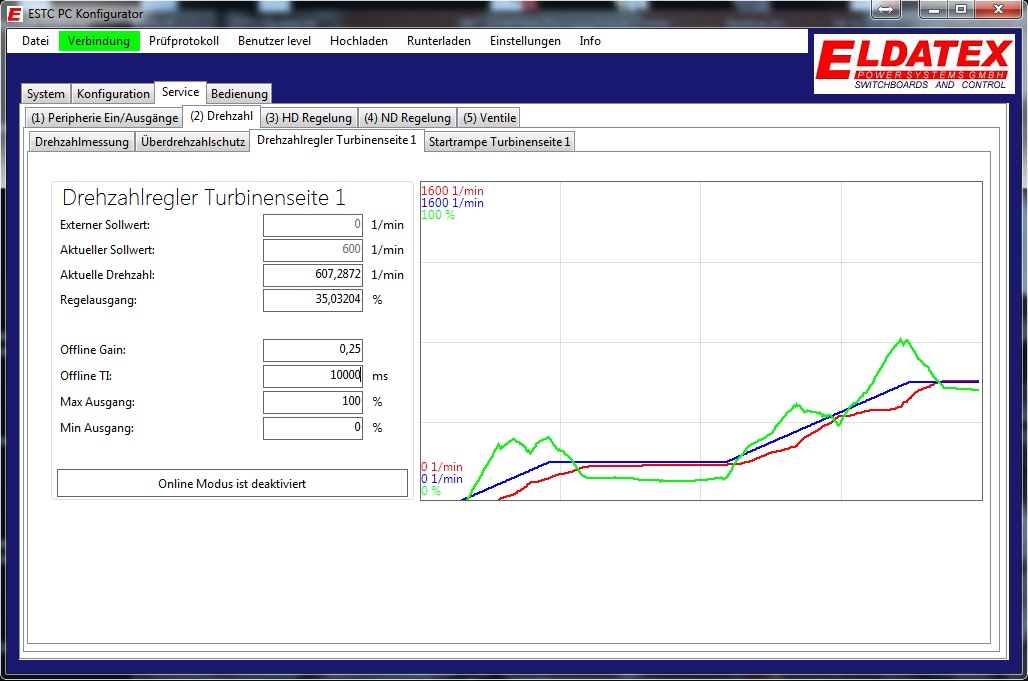 Data Archiving
The ESTC memorizes all messages coming up, recording the time of appearance and disappearance of each message.
What is more, process-relevant data are stored in a data archive directly which can be selected and analysed on the HMI.
Technical Data
Digital inputs:16
Digital outputs:16
Analog inputs (4-20mA): 9
Analog inputs (PT100): 3
Analog outputs: 6-18
Speed sensor inputs: 6